Joint NGO Statement to the "High Level Seminar on the state of stocks in the Mediterranean and on the CFP approach"
Catania, 9-10 February 2016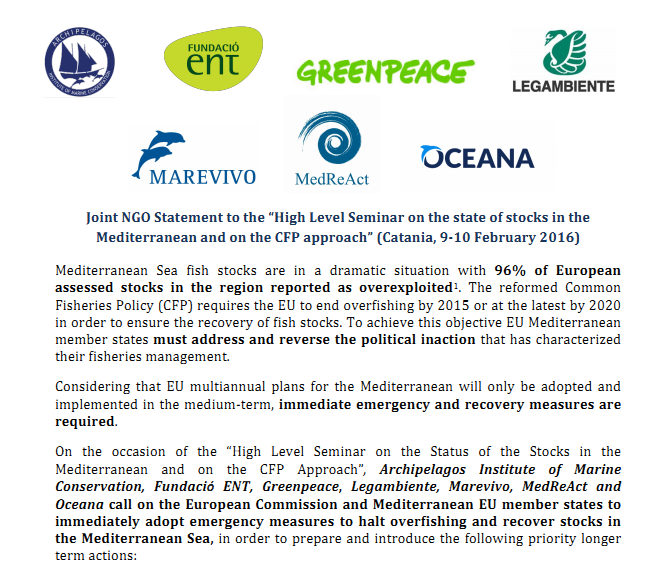 Mediterranean Sea fish stocks are in a dramatic situation with 96% of European assessed stocks in the region reported as overexploited [1]. The reformed Common Fisheries Policy (CFP) requires the EU to end overfishing by 2015 or at the latest by 2020 in order to ensure the recovery of fish stocks. To achieve this objective EU Mediterranean member states must address and reverse the political inaction that has characterized their fisheries management.
Considering that EU multiannual plans for the Mediterranean will only be adopted and implemented in the medium-term, immediate emergency and recovery measures are required.
On the occasion of the "High Level Seminar on the Status of the Stocks in the Mediterranean and on the CFP Approach", Archipelagos Institute of Marine Conservation, Fundació ENT, Greenpeace, Legambiente, Marevivo, MedReAct and Oceana call on the European Commission and Mediterranean EU member states to immediately adopt emergency measures to halt overfishing and recover stocks in the Mediterranean Sea, in order to prepare and introduce the following priority longer term actions:
Establish emergency measures and recovery plans for those EU stocks for which fishing mortality has reached unsustainable levels, such as for hake and small pelagic stocks;
Promote in the context of ICCAT a recovery plan for Mediterranean swordfish;
Set catch and effort limits based on the available scientific advice and ensure that exploitation rates are commensurate with recovering fish stock populations above MSY biomass levels;
Take appropriate measures to balance fishing capacity with the real fishing opportunities in order to stop overfishing by 2020 at the very latest;
Protect sensitive areas such as nurseries, spawning grounds and vulnerable marine ecosystems through spatial measures (no-take areas and marine reserves);
Strengthen control activities at sea and on land and implement dissuasive sanctions;
Establish or update the minimum conservation reference size (MCRS) for all EU commercial stocks, in line with the scientific advice and consistent with biological targets; and
Fully enforce the European Maritime and Fisheries Fund (EMFF) conditionality clause, according to which operators engaged in illegal activities would not have access to fisheries subsidies.
[1] Communication from the Commission to the European Parliament and the Council Concerning a consultation on Fishing Opportunities for 2015 under the Common Fisheries Policy.
To download the pdf: Joint NGO Statement